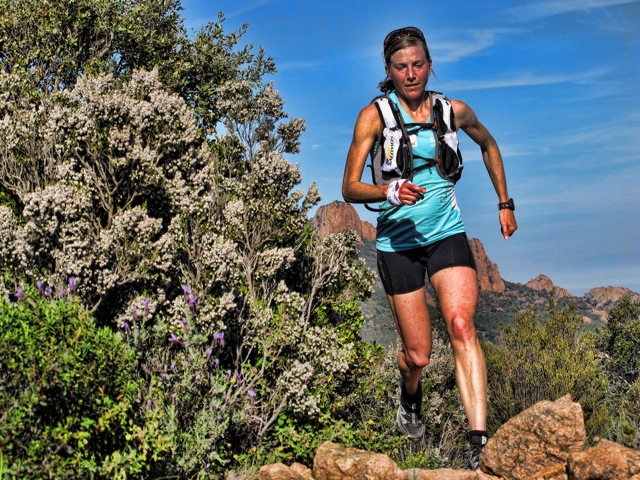 Name: Julia Böttger
Residence: Germany
Occupation: Personal Trainer
Age: 35
Team: Salomon Trail running Team
Home page: Trailschnittchen
Favorite trail?
Trails at Aosta Valley / Tor des Geants
Trail or race you want to run?
Andorra Ultra trail
Can you describe an ordinary training week?
Most of the time I run 5 – 6 days a week in the mountains (I hate flat running) between 2 and 5 hours. I am trying to run different trails and terrain each time and to have a good time out there. Most weeks I also go swimming and biking as well and do some core training. The rest of the day is working, eating and normal life.
For long mountain races like Tor des Geants, what are your tactics?
Well for the Tor des Geants I had no tactic as it was the first time this race took place and the first time for myself to run several nights. The most difficult part was to decide where to sleep and how long. How much sleep do you need to keep going. But normally my tactic is just to follow my own race. when you do an ultra you have to run your own speed and your own race. do not care about the others, and you have to be patient. For example if you want to run a 100k race most of the time the real race starts after 50k.
For us living in the lowland, it is quite hard to achieve good mountain running techniques. It is possible to get strong for the uphills but the downhill part is hard. When reading about this topic you can see that there are two different approaches; either you do some long and hard quad burning downhills now and then to let the legs get used to it or you can develop a smooth technique with a fast turn over and short strides.
What is your opinion on this?
I think both approaches together will help you to get very good in downhill running. And you are right – most of the runners underestimated the difficulty in downhill running. This is the part of the race most of them struggle. It is very helpful to develop a very good downhill technique but you also need strong quads. You also should do some stability exercises to improve coordination!
How do you train for good uphill/downhill technique?
As I live next to the mountains and my training is 90% in the mountains I just train the uphill and downhill during running. For improving downhill it really helps to run behind a very good runner. Just follow his footsteps and moves and you get a feeling for it and you will learn to find your way down.
What can you improve?
Me? I am kind of a slow but steady runner. And I really slow down on flat boring gravel roads. So I should work a bit on my speed.
You won the Canadian Death Race this summer, what are your plans for the rest of 2012?
I still have a lot of Trail running Camps to guide and end of October I will run the Grand Raid de la Reunion.
Will you run the Swiss Iron Trail next year?
Don´t know yet. Depends on the date and my training.
Thank you Julia and good luck!