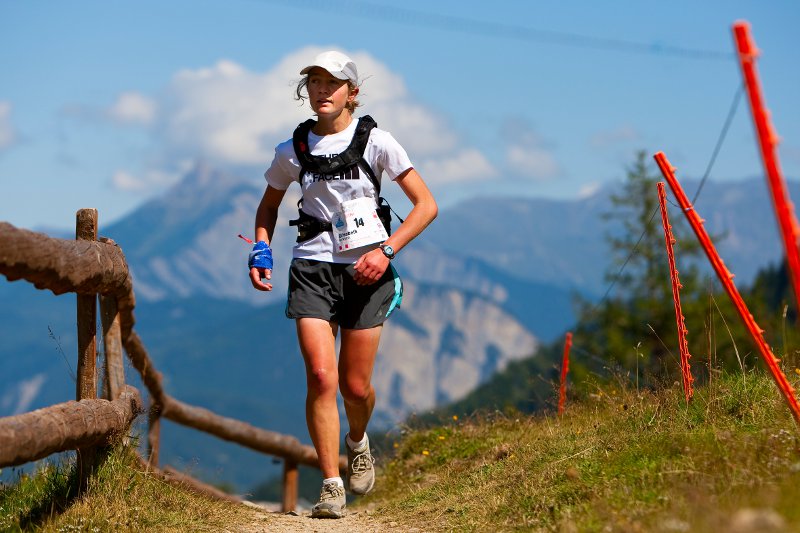 Photo by The North Face
Name: Elizabeth "Lizzy" Hawker
Residence: Switzerland
Occupation: Freelance writer and outdoor instructor (but scientist by profession)
Age: 36
Team: The North Face
Home page: http://www.lizzyhawker.com
Favorite trail?
Too hard a question to answer!
Trail or race you want to run?
So many dreams of trails and races to run …..
Can you describe an ordinary training week?
There is no real 'typical' week – my training tends to vary during the year depending on the race or challenge I am focusing towards next – i.e. whether marathon distance or shorter, city (i e flat roads) or mountain, or ultra distance (roads, trails or mountains). Each type of running requires quite different training. Over the years I have built up a high level of 'base endurance' – so for my next focus race I just adjust training to meet those specific needs.
What are your goals for 2012?
100km World Championships, Comrades (South Africa), Western States 100 (USA), Swiss Irontrail, Swiss Alpine Davos, The North Face Ultra Trail du Mont Blanc, Spartathlon.
For hard mountain races like UTMB, what are your tactics?
I rarely have 'tactics' for a race; my focus is very simple – I try just to run the best that I can at each moment of the race, to give 'all' that I can, to feel joy in my run, and to share an incredible experience with my fellow competitors.
For us living in the lowland, it is quite hard to achieve good mountain running techniques. It is possible to get strong for the uphills but the downhill part is hard. When reading about this topic you can see that there are two different approaches; either you do some long and hard quad burning downhills now and then to let the legs get used to it or you can develop a smooth technique with a fast turn over and short strides. 
What is your opinion on this? 
It very much depends on the race that you are training for. For a short, fast mountain race with downhill section then speed is paramount and you need to build up your confidence and technique for fast descent. For a long mountain ultra then the technique is much more conservative with small, light steps … imagine descending 1000m over technical terrain with still more than 20 hours of racing ahead of you ….
It does help if you can find terrain similar to that of the race on which to train, but it is also possible to train well wherever you are – I was successfully racing in the mountains even when I was living in the flatlands of the UK and training only on road and canal paths.
What can you improve?
I don't think you ever stop improving – you learn from each and every training run or race. All the experiences you have give you something to take forward into the next. That is part of the beauty of life.
Can you decide by yourself which races to attend to or is it "mandatory" to run UTMB, Trans Gran Canaria and other North Face races for you and the other in the team?
For me it is incredibly important that I have complete autonomy in deciding my races – as a trail runner you have to be free to make the race choices that are right for you in each moment. Of course it is great also when it is possible to run a The North Face race.
You where almost 3 hours ahead the second woman in your impressive win of UTMB last year. Is that the way you like it or do you prefer a hard duel all the way? 
As I said for me it is more important just to think about running the best that I can in each moment of the race. Each and every race is different, so whether I am leading from the start or have a hard duel, I enjoy it for what it is.
Did you run solo all the way or did you run with some guys?
It varied throughout the race, sometimes I was completely alone for long stretches, at other times there were male runners in sight or near.
Thank you Lizzy and good luck!